Q Club
The Q Club offers a range of facilities including a friendly coffee shop providing homemade cakes, paninis and snacks, a variety of tea and coffee choices, and comfortable seats with free Wi-Fi – perfect for a catch up. For the children, there is a soft play with puzzles, toys and entertainment to make sure everyone is happy.
Please click here to see the menu.
The Q Club can be hired for birthday parties, youth clubs, events, and courses. We often hold our own events for the community to get involved.
If you'd like to hold an event or hire the venue, please contact Richard Burnham on richardb@prospect-training.org.uk or 01452 542590.
The hire price stated below is also applicable to the hall hire – please contact for details.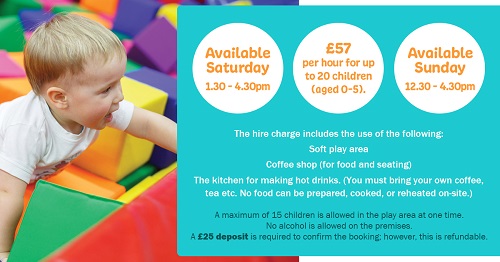 Please keep an eye on our Facebook page for any updates or for more information on opening times. For more information, and for prices please call 01452 542590.
Q Club Facebook
Q Club Instagram
General Opening Times (times can vary):
Monday: 9:15am – 2:00pm
Tuesday: 9:15am – 2:00pm
Wednesday: 9:15am – 2:00pm
Thursday: Closed
Friday: Closed
Saturday: 9:15am – 12:00pm
Sunday: Closed